Wendy Glue, England
Keld Jörgensen, Danmark
Ulf Göransson, Sverige
Paul Dukes, England
Stewart North, England
---
Wendy Glue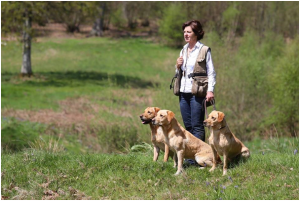 I have been training and competing Gundogs for the last 10 years. I have been incredibly lucky in that time to have had great success with my first dog who I had numerous Open Trial awards with and who taught me so much. My second dog I made up to a FTCH at 3 years old and qualified for the Championships in 2017. This year he has just been placed 2nd at The Retriever Championships in Scotland handled by Jamie Bettinson. I feel very fortunate to have such a wonderful dog in my kennel.
This year I was part of the Welsh Gundog Team at the Game Fair in July and The Anglesey Game Fair in August. I have been a B panel judge for 3 years but this is my first judging appointment in Europe and I feel very privileged to have been invited.

Till toppen av sidan
---
Keld Jörgensen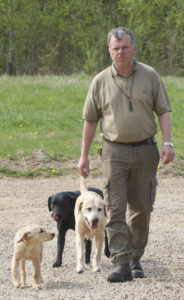 Jeg har været involveret med retriever prøver og træning siden 1982, hvor jeg fik min første labrador retriever. Sammen med min kone har vi et mindre opdræt af labrador retrievere under kennelmærke "Lochiness" med et eller to kuld om året.
Jeg blev autoriseret som dommer i 1992 og har siden dømt masser af prøver på alle niveauer i Danmark. Jeg er international markpøvedommer og i den egenskab har jeg dømt i mange lande i Europa, også ofte i Sverige.
Jeg er aktiv som hundetræner og fører mine hunde på alle niveauer både i jagtsæsonen og udenfor jagtsæsonen. Alle vores hunde bliver desuden brugt på jagt og vi nyder jagtsæsonen som apporterer på nogle dejlige godser tæt på vores bopæl.
Jeg er meget glad for invitationen til Agria Swedish Game Fair Cup og jeg ser frem til at møde de dygtige hunde og deres førere..
---
Ulf Göransson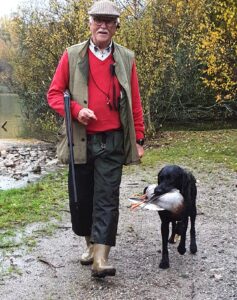 Jag är idag lycklig pensionär sedan något år och kan ägna mig åt våra hundar och det som följer med dem i större utsträckning än tidigare.
Vår första retriever, en Flatcoat, kom i huset 1979. Den följdes av flera och den sista lämnade huset i slutet på 90-talet.
Redan 1984 kom labradoren till oss, en av de första labradorer av engelsk jaktstam födda i Sverige. Hilding, blev den första retrievermästaren av den typen 1988 och också SoFJCh.
Genom åren har labradorer av jaktstam följt oss på jakter och prov och för närvarande har vi fyra varav en är SJCh.
Sedan 1989 dömer jag alla former av prov, numera även internationellt.
Det har gett mig möjlighet att träffa många hundförare med hundar i Sverige och Europa. Det är intressant och lärorikt att få studera hundar i arbete, ett privilegium vi domare har.
Jag ser fram emot att få möte er och er hundar på Skokloster i härlig vårgrönska
Ulf
---
Paul Dukes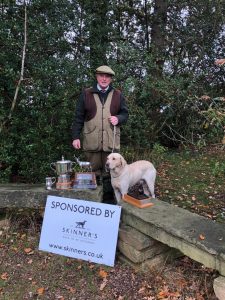 I have been involved in country sports most of my life, fishing shooting hunting. In 2012 I decided to have a go at training a gundog with a view to competition and acquired my first puppy. However while shooting in the past I have always had a dog on the peg with me, extremely unruly, basically the family pet, but for both of us was a day out. I come from a horsey background having Played polo professionally based at Cowdray Park Polo club.
Since 2012 I won my first novice in 2015, qualified for the IGL championships five times twice with FiTCH  Brocklebank zinc and three times with FTCH  Brocklebank bourbon.
---
Stewart North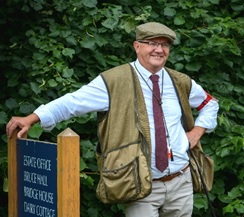 Stewart has been training working gundogs for over 20 years in the UK, currently Retriever Secretary organising Field Trials during the shooting season for the Dukeries (Notts) Gundog Club in the UK. His most proud achievement is qualifying for both the IGL Retriever Championship & UK Kennel Club Working Cocker Championship in the same year of 2015.
Stewart regards himself as a good all rounder with all types of working dogs, he has won many field trials with Black, Yellow & Chocolate Labradors and Working Cockers. In most recent times he has bred and won an Open Field Trial Stake with Working Chocolate Labrador Northglen Crumble, one of only 4 Working Chocolate Labradors ever to achieve this accolade.
He came into the world of gundogs to learn some obedience for the family pet Labrador and has never stopped learning from the first day he picked up that pup "Casper", always wanting to make a difference and help others enjoy the relationship with a working dog, whatever that aspiration may be.
This is now, his third visit to Sweden, previously having Judge a Novice Field Trial and tutored at a Training Seminar, always loves the Swedish enthusiasm, and made many friends, great to see a few of them travelling to the UK and qualifying for the Retriever Championship, very inspiring for all those enjoying the world of working dogs.
Stewart is very much looking forward to judging and meeting new friends at The Swedish Game Fair.