David Bellamy, England
Louie Robertson, England
Keld Jörgensen, Danmark
Ulf Göransson, Sverige
Tom West, Skottland
---
David Bellamy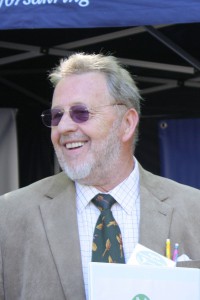 I was introduced to gundogs at an early age, as my Father was a part time Gamekeeper/Head Gardener. I had my first Gundog, a Flatcoated Retriever in 1974. He was Barradon Viscount, a grandson of Heronsflight Tercel. We won an Any Variety Novice Working Test when he was 16 months old and, I had caught the bug!
Over the years I have trained and run Flatcoats which have been successful in Field Trials, Shooting Dog Certificates and Working Tests. Many of these dogs have also been successful in the Show ring. Some six years ago I was introduced to the joys of the Golden Retriever and now have two girls, Ling and Roxy.
I have previously served on the Flatcoated Retriever Society General Committee, Held the position of Field Trial Secretary of the FCRS Society for three years and served on the United Retriever Club Committee for a number of years as well as regularly shooting and helping at Field Trials. I also spent several years running training classes and helping to organise Working Tests for the Northern England Flatcoated Retriever Association.
I began awarding C.C.'s in the breed Show Ring in England in the 1990's. I have taken Gundog Training classes and organised Field Trial Training days in this country, Sweden, Germany and Italy and over the years I have judged Shows in Europe and Canada. I ran my own dog in the Swedish Flatcoated Retriever Championship and have also competed in Denmark.
I am married to Roz who is also a Championship Show Judge and Working enthusiast, and we share our life with 3 Flatcoats, 2 Goldens and Martha, the Border Terrier.
David J. Bellamy
Woodfinch Flatcoated Retrievers


Till toppen av sidan
---
Louie Robertson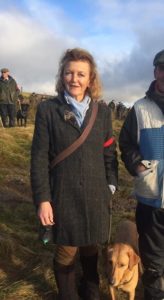 It was in 1990 I that I started with my first working spaniel so I've been training gun dogs now for 30 years, with Mitforton labs joining the Mitforton spaniel team in 2001 when I began training full time as trainthatdog.com
Ten years later Gilly Nickols let me have one of her puppies, Bedgebrook Scrumptious (Truly) who was to be my second trialling lab and she led me to develop a real passion for walked up field trials which I had previously enjoyed with the spaniels. Truly's success in 2014 took me to the IGL at Windsor
Having now qualified six times for the IGL Retriever Championship with three different dogs winning six two day open stakes and numerous Open Field Trial awards with Bedgebrook Scrumptious, FTCH Mitforton Nacho, Mitforton Onour as well a winning Novice with Troddenmills into the Dark of Mitforton, and Helnoral Columbo of Birdsmill, I'd say I've been quite lucky! We were thrilled to receive a Diploma of Merit at Glenalmond for completing the IGL Championship 2019 with Mitforton Onour
With FTCh Mitforton Nacho I qualified for the England Team holding reserve position with the retrievers in 2017 and 2018 Game Fairs. As well as competing and helping at GWTs I am  now Kennel Club Official B Panel Field Trial Judge and very much looking forward to my first judging appointment in Sweden and watching your dogs work.
Thank you very much for asking me!
Louie
---
Keld Jörgensen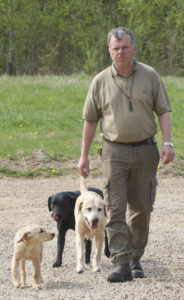 Jeg har været involveret med retriever prøver og træning siden 1982, hvor jeg fik min første labrador retriever. Sammen med min kone har vi et mindre opdræt af labrador retrievere under kennelmærke "Lochiness" med et eller to kuld om året.
Jeg blev autoriseret som dommer i 1992 og har siden dømt masser af prøver på alle niveauer i Danmark. Jeg er international markpøvedommer og i den egenskab har jeg dømt i mange lande i Europa, også ofte i Sverige.
Jeg er aktiv som hundetræner og fører mine hunde på alle niveauer både i jagtsæsonen og udenfor jagtsæsonen. Alle vores hunde bliver desuden brugt på jagt og vi nyder jagtsæsonen som apporterer på nogle dejlige godser tæt på vores bopæl.
Jeg er meget glad for invitationen til Agria Swedish Game Fair Cup og jeg ser frem til at møde de dygtige hunde og deres førere..
---
Ulf Göransson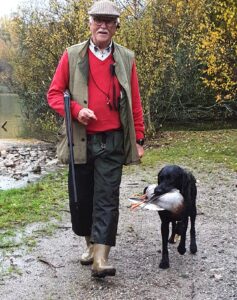 I slutet på 1970-talet kom den första retrievern, en FlatCoat, in i vår familj. Då väcktes mitt intresse för jaktprov.  Sedan utökades hundinnehavet succesivt och 1984 kom labradoren Hilding (SoNJCh Guns Choise Shotgun) och med honom ett ännu större intresse för prov och jakt med retriever. Hilding krönte sin karriär med vinst i retrievermästerskapet. Min tidigare jakterfarenhet bestod mera av jakt med drivande hundar.
Min fru Birgit och jag har också under några år haft en liten uppfödning av retriever under prefixet Gunsmith. Från 1989 dömer jag retriever på prov i alla former och sedan 2005 även som FCI-domare. Domaruppdraget parallellt med träning och tävling med egna hundar har gett mig många härliga stunder, inte minst då min fru och jag delar intresset för hundars arbete. Den yngsta provformen, Working Test, är en alldeles utmärkt aktivitet och en bra inkörsport för våra prov i övrigt. Dessutom en bra tävlingsform där många kan delta på samma gång och i olika konstellationer. Jag ser verkligen fram mot de tre tävlingsdagarna på Skokloster 2021 och hoppas alla får en härlig upplevelse
---
Tom West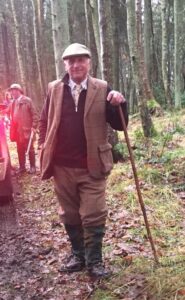 Tom West of Westhala Gundogs has been a Gundog trainer for over 35 years. Tom is a professional trainer with great credentials and a wealth of experience – he has trained and competed over the years enjoying much success with Retrievers, HPR's and Spaniels, qualifying for the IGL a few times, and successfully made up Labradors into Field Trial Champions.
He now spends most of his time offering personalised tuition on a one to one basis or to small groups – who travel from both all over the UK and overseas to train with Tom.
Tom has judged for the last 21 years and as a 'A' panel Judge for the last 14 years. He has judged all over the UK and has had many overseas appointments -France, Hungary and has judged the Danish Retriever Championships.

The Picture of Tom was taken at last years IGL (well 2019) at Glenalmond Estate – Perthshire – Tom is a Committee Member of the IGL.