Wendy Glue, Wales
David Bellamy, England
Jamie Bettinson, Wales
Andrew Slingsby, England
Keld Jörgensen, Danmark
---
Wendy Glue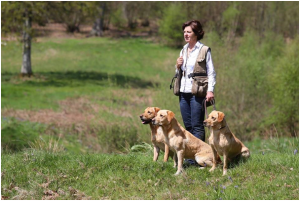 I have been training and competing Gundogs for the last 10 years . I have been incredibly lucky in that time to have had great success with my first dog who I had numerous Open Trial awards with and who taught me so much . My second dog I made up to a FTCH at 3 years old and qualified for the Championships in 2017 . This year he has just been placed 2nd at The Retriever Championships in Scotland handled by Jamie Bettinson . I feel very fortunate to have such a wonderful dog in my kennel .
This year I was part of the Welsh Gundog Team at the Game Fair in July and The Anglesey Game Fair in August. I have been a B panel judge for 3 years but this is my first judging appointment in Europe and I feel very privileged to have been invited.
---
David Bellamy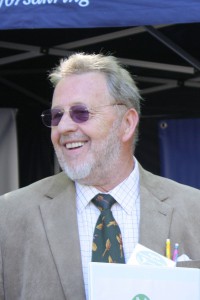 I was introduced to gundogs at an early age, as my Father was a part time Gamekeeper/Head Gardener. I had my first Gundog, a Flatcoated Retriever in 1974. He was Barradon Viscount, a grandson of Heronsflight Tercel. We won an Any Variety Novice Working Test when he was 16 months old and, I had caught the bug!
Over the years I have trained and run Flatcoats which have been successful in Field Trials, Shooting Dog Certificates and Working Tests. Many of these dogs have also been successful in the Show ring. Some six years ago I was introduced to the joys of the Golden Retriever and now have two girls, Ling and Roxy.
I have previously served on the Flatcoated Retriever Society General Committee, Held the position of Field Trial Secretary of the FCRS Society for three years and served on the United Retriever Club Committee for a number of years as well as regularly shooting and helping at Field Trials. I also spent several years running training classes and helping to organise Working Tests for the Northern England Flatcoated Retriever Association.
I began awarding C.C.'s in the breed Show Ring in England in the 1990's. I have taken Gundog Training classes and organised Field Trial Training days in this country, Sweden, Germany and Italy and over the years I have judged Shows in Europe and Canada. I ran my own dog in the Swedish Flatcoated Retriever Championship and have also competed in Denmark.
I am married to Roz who is also a Championship Show Judge and Working enthusiast, and we share our life with 3 Flatcoats, 2 Goldens and Martha, the Border Terrier.
David J. Bellamy
Woodfinch Flatcoated Retrievers


Till toppen av sidan
---
Jamie Bettinson

Hi Everybody, I'm Jamie Bettinson, A panel Judge and Vice chairman of the International Gundog League, (IGL) Retriever society. I've been working Labradors for 20 years and on my 4th F T C H .
I've run in the I G L Championships over numerous times gaining a third place and a diploma of merit. I've also ran in the Skinners World test event numerous times winning it 3 times for Wales.
Also I've ran for Wales in the C L A Gamefair nearly 10 times gaining top dog with F T C H Levengyl Peacock. Last year was one of my best seasons, winning Trialing dog of the year with F T C H Cynhifa LADISLAV. Being the only Welsh person to ever win that Kennel club trophy. 2019 I was lucky to be placed 2nd in the I G L Championship, handling my partners dog FTCH Tanyrhallt Blue Bloods.
As well as running Labradors I also judge being a A panel for 10 years . I've judged the I G L Championships, Irish Championship, Skinners World Cup and the C L A Gamefair. Plus every club society in Great Britain ???
My biggest passion is training people and getting them to do well. I hold classes from March untill September for novice to open and for tests and trails. I also travel around the country doing mobile training for all standards.
So at this point I just like to say I can't wait to meet some old and new friends .
Jamie Bettinson
Tidy Training.
---
Andrew Slingsby
Along with my wife Helen founders of Hanrebor Gundog. I have worked, owned and trained gundogs for 25 years + and more recently in the last 8 yrs I have competed in Field Trials and Working Tests and have had much success. I have been lucky enough to qualify and run my own dogs in the IGL retriever championships on two occasions and have bred, and owned FTW's and FTCH's.
In the last two years I have had a change of profession and have become a full time gundog trainer. The knowledge I can share with my clients is from my own experiences and proven methods and I feel I am able to adapt my training to suit the handlers and their dogs to enable them to reach their goal.
Ultimately I enjoy seeing my clients and their dogs succeed in whichever path they decide to take.
---
Keld Jörgensen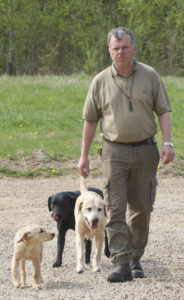 Jeg har været involveret med retriever prøver og træning siden 1982, hvor jeg fik min første labrador retriever. Sammen med min kone har vi et mindre opdræt af labrador retrievere under kennelmærke "Lochiness" med et eller to kuld om året.
Jeg blev autoriseret som dommer i 1992 og har siden dømt masser af prøver på alle niveauer i Danmark. Jeg er international markpøvedommer og i den egenskab har jeg dømt i mange lande i Europa, også ofte i Sverige.
Jeg er aktiv som hundetræner og fører mine hunde på alle niveauer både i jagtsæsonen og udenfor jagtsæsonen. Alle vores hunde bliver desuden brugt på jagt og vi nyder jagtsæsonen som apporterer på nogle dejlige godser tæt på vores bopæl.
Jeg er meget glad for invitationen til Agria Swedish Game Fair Cup og jeg ser frem til at møde de dygtige hunde og deres førere..