Gaynor Gent, England
Wayne Mitchell, England
Declan Boyle, Nordirland
Sharon Dingle, England
David Bellamy, England
---
Gaynor Gent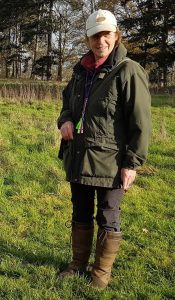 I started with Labradors in the show ring some 30 years ago qualifying for Crufts however when I had my first working bred Labrador that was it I was hooked.
I am an A panel retriever judge which has taken me around the country judging many Novice, All Aged and Open Field Trials and working tests. I have judged in many countries and have also been to Sweden training.
Myself and my husband (a B Panel Judge) have had many successes in both Field Trials and working tests, the highlight was my dog Thistle Jack at Mistigri qualifying for the Retriever Championship.
For several years I have been a professional trainer, training dogs and people with their dogs and also train dogs for the shooting field both as peg dogs and picking up dogs, however my winter weekends are taken up with picking up with my team of Labradors, Golden Rerievers and Cocker Spaniels.
I breed under our affix of Mistigri and and our puppies have been sold far and wide with people coming back over the last 30 years for their next puppy.
I am looking forward to seeing friends old and new on my return to Sweden this time.
Gaynor Gent
Mistigri Gundogs
---
Wayne Mitchell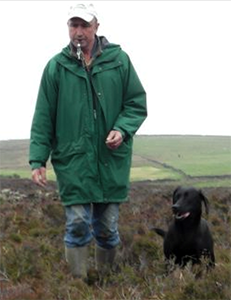 I have been handling and training gundogs since 2000 and have sent six different dogs to the International Gundog League Championship, including three Field Trial Champions. 2017 I had qualified 2 dogs to The Championship.
As an A panel retriever judge under the British Kennel Club I have judged numerous Novice, All Aged and Open field trials as well as Working Tests in Great Britain and in Europe.
I breed gundogs under the Affix 'Labdom' and have sold Labdom dogs around the world. Also, I train gundogs which I compete in trials with, or sell onto working people who either shoot or compete in field trials, as well as train dogs for guns either as peg dogs or as part of a picking up team. I do give gundog training lessons on an individual or a group basis. Currently I am competing with some Labdom dogs in field trials.
I am delighted and honoured to have been asked to judge in Sweden and very much look forward to a wonderful weekend.
Wayne Mitchell
---
Declan Boyle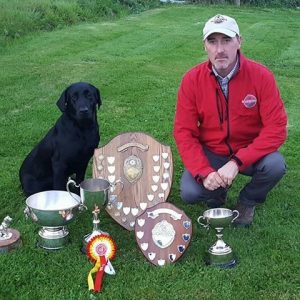 I have been training and competing with Labradors since 2002, I have won trials and working tests with numerous dogs. Making 3 up to Irish Field Trial Champions and 1 a UK Kennel club Champion.
I have qualified for the Irish Retriever Championship 11 times and the IGL 2 times.
I have run at the CLA game fair 7 different times with 5 different dogs, taking the overall top dog in 2017 with INT. FTCH Miller mcduff.
I am an A panel judge in the Irish kennel Club and a B Panel under the Kennel Club (UK).
I have judged many field trials and working tests in numerous countries which also includes The German cup in 2012, European ICC in Italy , Swedish retriever Championships 2017.
I do a lot of rough shooting and picking up during the hunting season with all my dogs. I am a full time dog trainer and take a lot of training seminars during the spring/summer months.
I am delighted to be asked to judge in Sweden and looking forward to the weekend.
Declan Boyle
(Declan vann The Irish Retriever Championship 2017 med INT FTCH Millar MC DUFF).
---
Sharon Dingle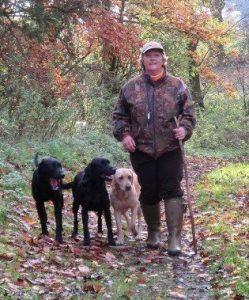 I live in rural Norfolk with my husband and seven dogs, five Labradors a Cocker spaniel and a naughty terrier. After raising three daughters who were very horsey I found there was a bit of a gap when they all started to leave home and go off to university about sixteen years ago. I bought a Labrador puppy and joined the local gundog club. Knowing nothing at the time I was very lucky he was well bred, had natural ability and good temperament. He got me hooked.
I soon had a large picking up team and was doing about sixty days a year. I then trained a good test bitch who gave me a 'leg up'. I gradually did more and more competing and ventured into trails. I now run two open dogs, judge and run my own competitions for Charity.
I have gained an amazing network or friends and people who have helped me over the years through the dogs and now Grandchildren have come along it is sometimes difficult to fit it in! I still do a lot of picking up which is my first love but with trialling and judging not a many day as I did. I particularly enjoy bringing on the young dogs and watching them learn their trade in the shooting field.
I am looking forward to my first visit to Sweden. I have a lot of Swedish friends and many have stayed with me over the years so it will be lovely to meet up with some of them in their own country.
Sharon Dingle
---
David Bellamy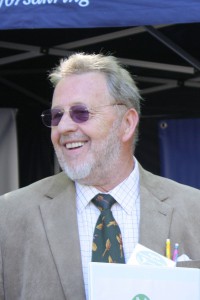 I was introduced to gundogs at an early age, as my Father was a part time Gamekeeper/Head Gardener. I had my first Gundog, a Flatcoated Retriever in 1974. He was Barradon Viscount, a grandson of Heronsflight Tercel. We won an Any Variety Novice Working Test when he was 16 months old and, I had caught the bug!
Over the years I have trained and run Flatcoats which have been successful in Field Trials, Shooting Dog Certificates and Working Tests. Many of these dogs have also been successful in the Show ring. Some six years ago I was introduced to the joys of the Golden Retriever and now have two girls, Ling and Roxy.
I have previously served on the Flatcoated Retriever Society General Committee, Held the position of Field Trial Secretary of the FCRS Society for three years and served on the United Retriever Club Committee for a number of years as well as regularly shooting and helping at Field Trials. I also spent several years running training classes and helping to organise Working Tests for the Northern England Flatcoated Retriever Association.
I began awarding C.C.'s in the breed Show Ring in England in the 1990's. I have taken Gundog Training classes and organised Field Trial Training days in this country, Sweden, Germany and Italy and over the years I have judged Shows in Europe and Canada. I ran my own dog in the Swedish Flatcoated Retriever Championship and have also competed in Denmark.
I am married to Roz who is also a Championship Show Judge and Working enthusiast, and we share our life with 3 Flatcoats, 2 Goldens and Martha, the Border Terrier.
David J. Bellamy
Woodfinch Flatcoated Retrievers
---